Looking for high quality custom lanyards? You've come to the right place! Don't you wish that there was a little guide to help you know how to choose and invest in custom lanyards without regretting it later? We will help you learn more information about custom lanyards to avoid detours and save your money. Read on and feel free to contact us to get the best proposal from our professional team.
1. Promotional Product Market Analysis
Promotional products such as pens, stock cards,and plush toys are the items used to promote a product, service or company program, including advertising specialties, premiums, business gifts, incentives, awards, prizes, and other imprinted or decorated items. There are some data analyses that show the importance of promotional products.
Studies prove a promotional product is a must
According to Promotional Products Association International (PPAI):
94 percent of customers could recall the promotional products they had received in the past two years.
89 percent could also recall the advertiser.
83 percent reported they were happy to receive promotional products.
48 percent would like to get promotional products more frequently.
69 percent tend to keep the promotional products.
A business traveler study at Dallas Fort Worth Airport showed that 71 percent of business people have received at least one promotional product during the last 12 months. 33.7 percent of them received it on their person and 76.1 percent could tell the advertiser's name. While 52 percent of that group kept working with the advertiser after receiving the promotional product, 52.1 percent reported their impression of the advertiser was much better after they received the item.
According to a study conducted by Baylor University, the promotional products used in direct mail solicitations can increase response rates to over 75 percent. As a result, 'lumpy' mail opens. When the company uses promotional products instead of coupons, customers reorder more frequently. Researchers at Southern Methodist University found that customers who received promotional products reordered more than 18 percent sooner than those who received coupons, and over 13 percent sooner than those who received no promotion.
Research after research proves that people who receive the promotional products remember the advertiser's name. A research by Schreiber & Associates, Peoria, IL, showed that 39 percent of people who received a promotional product could recall the advertiser's name as long as 6 months after they received it.
What is the most power of promotional products?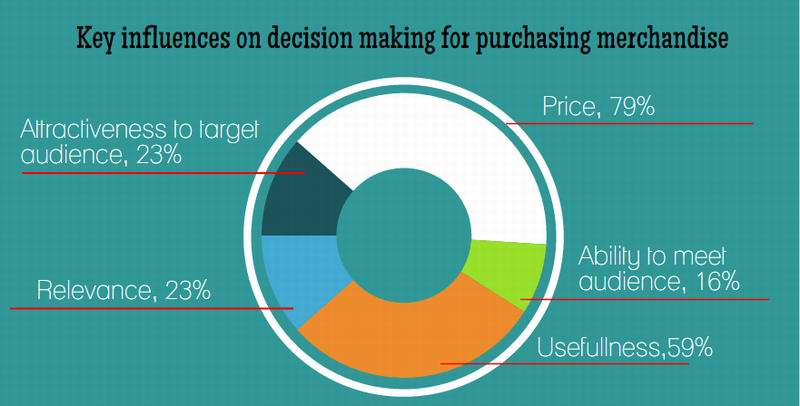 Let's think: what's your most budget-friendly promotion product? Yes, it's lanyard! Many companies keep purchasing thousands of custom lanyards for their employees. Be they custom printed with the company's logos, names, slogans, or symbols, custom lanyards as promotional products are a cheap option.
Custom lanyards serve as a convenient and effective source of advertising when worn at the trade shows or given away for a promotional purpose. They are well-known for their ability to keep important objects handy while simultaneously keeping your hands free.
Custom lanyards help to meet all needs of the companies, sports events, and activities. When you spend lots of money on your company advertising, your competitor may use a much cheaper way to drive real business results, and get an incredible impression of their customers. Shortly, every company can reap the fantastic benefits from the custom lanyards.
2. What is custom lanyard?
A lanyard is a strap or a cord that is worn around the neck to hold a whistle, identification badge, keys and other small items. Lanyards are used everywhere – from schools, businesses, hospitals, to special events, reunions, conventions, and recreational activities.
Custom lanyards can also be used as an advertising tool with a customized logo or name printed on the strap. They come in a great variety of colors and types with different hardware attached at the bottom for holding an ID badge holder, retractable badge reels, etc.
Lanyards can be made from cotton, cord, nylon or polyester twill. The least expensive one is the cord type, but it can't be printed as it lacks the flat surface of the strap type. There are lanyards that have a small bulb containing a retractable reel to use with your keys or ID badge. They can also have breakaway connectors so that if the lanyard gets caught it releases before it pulls on the neck.
Made from nylon, polyester or cotton, the strap type lanyards are usually printed with a company or team name, logo or product. There are three different printing methods:  screen printed lanyard, woven lanyard,and dye sublimation lanyard.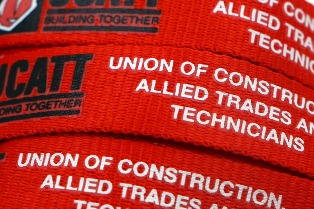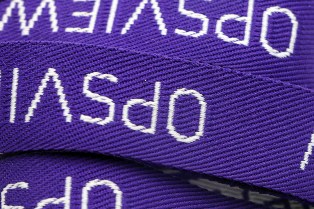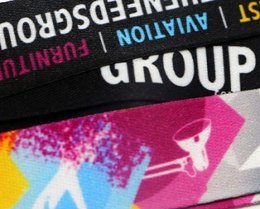 Lanyards don't just hold your ID
You can also use lanyards a form of self-expression to let the world know about your social issues. For instance, you can choose a breast cancer awareness lanyard, a support-our-troops lanyard, or a patriotic lanyard. You can get a pink lanyard or a patriotic lanyard with your logo and text message showing your support.
Today, lanyards are popular for their ability to keep important objects close at hand while simultaneously keeping hands free. Lanyards are used in many official capacities by military and government personnel to hold security cards or other things they need to work without any delay.
Where can you use lanyards?
There are many places where you can use custom lanyards, except the office. Lanyards boast the incredible benefits and many institutions have already experienced them. Here are the situations where you can use your custom lanyards.
Conference identification
Perhaps your conference or event doesn't have free entry. In this case, you will want to identify people who are meant to be there. Or, you have a panel of VIPs or delegates, or you have restricted access areas. When you use lanyards, you can quickly identify people without security staff pestering them for credentials or information. You can use simple, unprinted lanyards in different colors or a color-coded ID card hanging from the clip.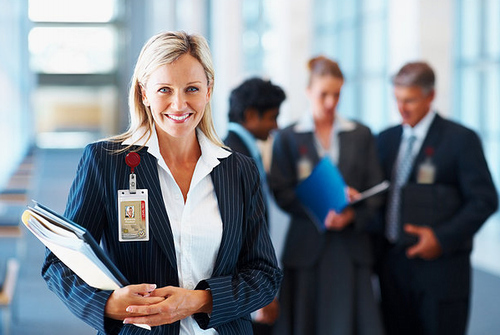 Advertising beacon
As we mention above, print your logo, brand or contact details onto the lanyard and ask your staff or conference visitors to wear your logo. This creates awareness. Plus, people may keep using lanyards at home or in the office after your event. You staff may even want to wear them during lunch, or use them during any other special event.
Last year, we attended an automotive event and spotted a company selling lanyards with their brand printed along the length of the lanyard for $10. This is a great way to raise money for a charity or nonprofit organization. Do you want to get high quality custom lanyards without ruining your budget? Please click here.

Secure locations and complexes
Entry to secure premises requires an ID card or a swipe key, or even a RFID chip or card. You can attach it to your lanyard and wear around the neck. This will help you and your staff use the ID cards faster, and avoid losing their ID – in some cases can be a real disaster. Not to mention that RFID chips can cost a fortune. If lost, you may end up paying $100 for RFID chips.
Hospital staff
Medical personnel should use pens non-stop. Did you know that a lanyard can help you wear a pen around your neck? The strap features a safety fitting to prevent strangulation if someone grabs the lanyard, or it gets caught on machinery or equipment. Lanyard are excellent in medical facilities and around government institutions due to their safety rating and ability to keep the hands of medical personnel free in certain situations.
Parties and social events
Cruising requires people to carry a lanyard with their cruise card. We have also seen some awesome parties where the guests wore the lanyards, including a huge beach party where people wore specific lanyard colors to display marital status, and a small gathering where people wore the lanyards with a number to enter a competition during the event. People stick to these kinds of items for keepsake and this creates strong brand awareness for your company.
3. Lanyard Types and Attachments
There are many types of lanyards and every lanyard has its own features and differs from raw materials and uses. But custom lanyard can't be complete if not these attachments.
Flat polyester lanyard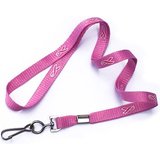 The classic polyester lanyard is still the best when it comes to economic and customization needs. Available in several colors and with any fitting, these promotional lanyards meet any requirements. We offer flat polyester lanyards that will suit your requirements and come with whatever clips and accessories you request. All for a factory price.
The companies invest in polyester lanyards to create a promotional product. Polyester is an ideal fabric for lanyards. It is both durable and hardy. You can wash and dry it as often as you wish.
Nylon lanyards
One of the most renowned types of lanyard is nylon lanyards. Nylon lanyards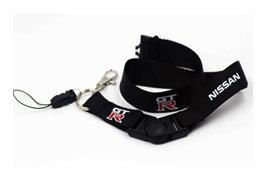 made from a flat braid or round nylon material (and available in different colors) offer the best value for promoting and securing your company. In fact, a nylon lanyard can be downright cheap and it's so versatile. You can choose a plain, custom or pre-printed nylon lanyard that features lots of attachment options. 4inlanyar provides a wide range of nylon lanyards and offers competitive prices, bundle discounts and a price match guarantee.
Heat transfer lanyard (a full-color lanyard)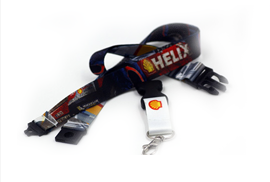 What does make the heat transfer lanyard (a full-color lanyard) different? The text or logo isn't just printed onto the surface of the polyester material. Instead, it's dyed all the way into the fabric. Full-color lanyards are made from the same strong, comfortable polyester like our more traditional styles. But your design, no matter how intricate or complex it is, is imprinted onto both sides of the material. If your design is highly detailed or includes multiple color gradients, full color is the perfect solution to your lanyard needs.
Eco-friendly lanyard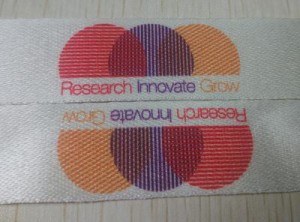 If you are looking for promotional lanyards where you want to make an environmentally friendly statement about your company, we recommend you to choose eco-friendly lanyards. We offer eco-friendly bamboo lanyards, recycled PET lanyards, and cotton lanyards. These types of lanyards are incredibly popular in European and American countries.
If you want to order any eco-friendly lanyards, the custom printed lanyards are the best choice. It takes 2 to 3 weeks to make lanyards to suit any business needs.
Woven lanyard
If you want your custom lanyards to have an elegant, finished appearance, the woven polyester lanyards are the perfect solution. Woven polyester lanyards weave your message or logo into the lanyard with thread, using a process similar to embroidery. Thanks to this weaving process, the woven lanyards are excellent for simple logos or text, since more elaborate lettering won't be legible.

Tube lanyard
Tube lanyards are made from loosely stitched polyester formed into a tube and folded at the end. The manufacturing process of the imprinted tube polyester lanyard gives the product a greater stretchability than any other lanyard type has. Although tube lanyards are too small to place your text and/or logos, they are all budget-friendly. Tube lanyards are the best low-cost solution for your custom lanyard needs.
Festival wristbands
When you don't need too big lanyards, we recommend festival wristbands. Perfect for gyms and other recreational companies, these wrist strap lanyards offer a wide range of custom, standard fittings and they're easy to carry. 4inlanyard offer woven and heat transfer wristbands along with unbeatable price and excellent customer service.
Luggage belt
Luggage straps help to cinch your bags to keep them shut, secure and safe during transit. Made from strong, durable materials, like reinforced vinyl, nylon or leather, there are a belt or bungee style to consider. Being about 2 inches wide and up to 80 inches long, they are ideal for various bag sizes, as well as one or more pieces of luggage, all at the same time.
Travel smart with this cool luggage belt to help you identify your luggage during the baggage claim. The adjustable belt wraps around your suitcase will prevent accidental openings. Get your personalized luggage straps, constructed out of a super strength nylon or polyester or woven or heat-transfer material by ordering on 4inlanyard.com.
Custom rush lanyard
Made from high-quality soft polyester, rush lanyards can change the way you look at lanyards overall. We can make these lanyards imprint with your logo in just 1 working day as soon as you place your order and approve your artwork by using our stock color lanyard material. We offer the fastest delivery service and send lanyards via express courier straight to a customer.
If you're in a hurry and can't wait for our 3-day service, take a look at our special 1 Day Print Lanyards!
Lanyard Attachments
No matter what kind of custom lanyards you need, they're not complete without attachments. We offer multiple attachment options for your lanyards. Here are some of the best attachments out there.

With every custom lanyard order, you will need to choose one of our standard attachments shown above. These are the most popular attachment options we offer. We ensure at least one of them will definitely suit your needs.
Badge holders
When it comes to carrying an I.D. badge or key card, it's really hard to beat badge holders attached to custom lanyards. The badge or card is kept secure on the lanyard, making it difficult to lose. They're convenient when you need to open doors, or pass through a security check.
The fact that you wear a badge holder ensures that you're not a random stranger and you don't pose a potential security threat. At conferences and conventions, badge holders help to keep attendees' names and affiliations front and center. That makes networking easier and more efficient.
When you order on 4inlanyard, you get our top quality customer service and best prices. If you find a lower price, we will surely match it.
When it comes to customer service, we follow just one simple rule – treat every customer as we want to be treated. We are always happy to answer your questions and respond to your concerns about your custom lanyards and badge holders.
Badge reel
Custom lanyards help to carry I.D. badges, key cards, keys and other day-to-day accessories. But sometimes you need something a little bit different. That's where custom badge reels enter the picture.
The 4inlanyard badge reels are made from sturdy PVC plastic that's tough enough to withstand rough weather and everyday handling. We can imprint your custom logo right onto the reels to help you get your brand message delivered to a wide audience. Colorful and lightweight, badge reels are frugal and easy to carry. When you want to keep your I.D. badge or set of keys handy, opt for a badge reel.
When it comes to quality, you would agree that 4inlanyard can't be beaten. We offer free artwork and revisions on both lanyards and badge reels, and we don't charge mold and setup fees. We offer the lowest price guarantee! If you find a better price, let us know.
4. Custom Lanyard Production Process
The quality of printed lanyards can range from type to type. They are made from different materials, and the surface smoothness isn't the same. When printing tubular lanyard, we apply the printer ink to the back of lanyard, making sure the surface is smooth and a design logo or text is complex and delicate. Printing can make a logo or text fuse the lanyard surface.
We never offer a broken logo or text lanyard, or dirty lanyard. We can explain any lanyard production process if you have questions.
The screen printed production process
Step 1: Weaving germ band by using a weaving machine.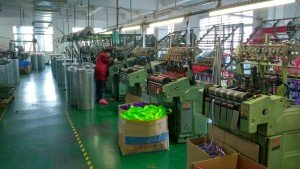 Step 2: Fixing a no-cut lanyard on the table.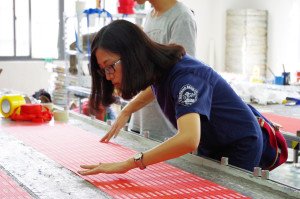 Step 3: Using paint on the molds, and transferring the print on the surface of the lanyard. This process requires high-quality paint and mold.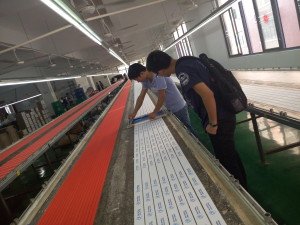 Step 4: Stitching lanyard with attachment.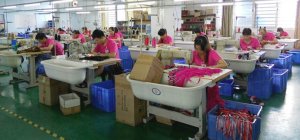 Step 5: Packing lanyards into boxes.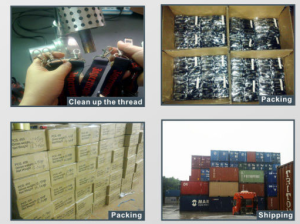 Note: If you want to print on both sides, let the first side dry completely before printing a logo or text onto the other side. Otherwise, when you remove the lanyard, a wet lanyard logo or text will just wear off.
The heat transfer (full color) lanyard production process
Step 1: Making a blank lanyard.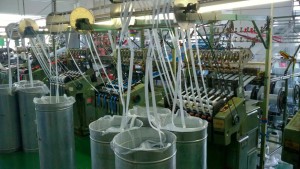 Step 2: Designing the artwork and printing onto the paper.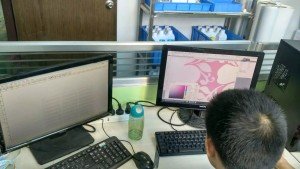 Step 3: Printing a logo onto the paper.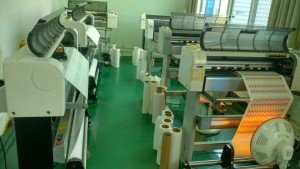 Step 4: Using a high temperature gas machine to transfer the color from the paper on the lanyard.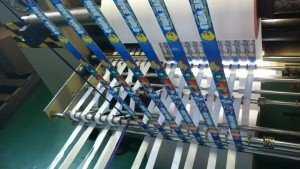 Note: Heat transfer (full color) lanyard logo or text.
We use the polyester, nylon, and RE-PET, bamboo materials to create the heat transfer lanyard. We ensure the surface is smooth and easily colored. The text or logo is dyed all the way into the fabric, thus the lanyards don't crack, peel or fade with time. Moreover, the heat transfer (full color) printed lanyards provides the clarity of the details, and perfectly presents your personalized design thanks to top photo quality.
The edge-to-edge printing and color gradients make your logo look more professional, though some problems with a heat transfer (full color) lanyard can occur as well. The most common problems are:
logo or text is not aligned to the center;
ghosting;
the design of the color doesn't match;
the color of a heat transfer (full color) lanyard is too vague.
We will notice if your logo doesn't suit a heat transfer (full color) lanyard. So, you shouldn't worry about the quality of your lanyard.
The woven lanyard production process
Step 1: Making a mold and adjusting the machine.
Step 2: Designing the artwork.
Step 3: Weaving the lanyard with a logo.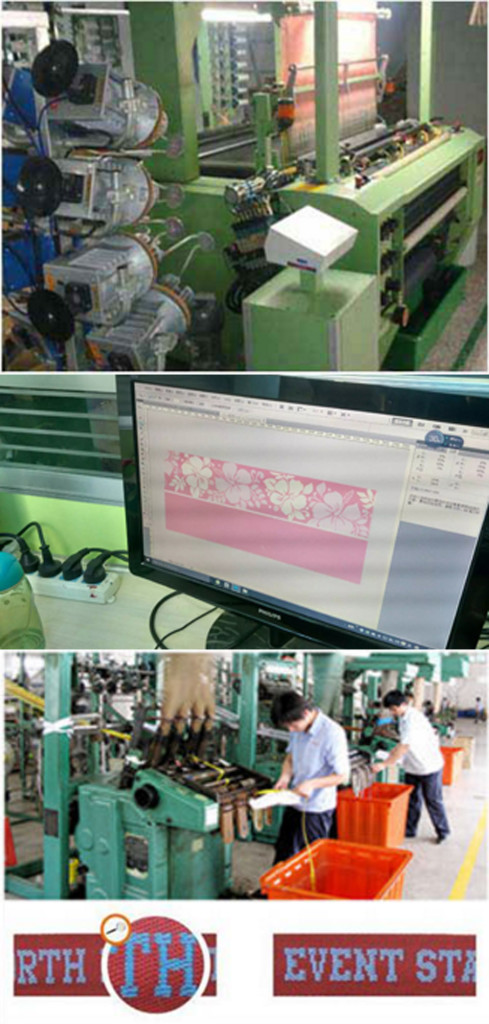 5. The Most Common Quality Issues You Might Have with Your Supplier
Whether you order your lanyards for the first time or you have been ordering them for a while, you might have some problems with the quality of your lanyards and your supplier. Check out some of the most common quality issues to be aware of how a perfect lanyard should look like.
Problem 1. The logo peels off from the lanyard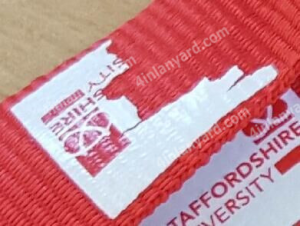 Take a look at the picture above and tell what's wrong with this lanyard? Yes, perhaps you noticed that right. The logo peels off from the lanyard and it looks unprofessional, doesn't it? There are many reasons why the logo can peel off, but these 5 are the major ones:
Poor quality of transparent dielectric paste
That's what we call 'glue print.' We print a transparent dielectric paste onto the lanyard material first, and then print a white logo onto it to make the text more clearly. If your supplier uses a poor quality transparent dielectric paste, the logo can easily peel off in a matter of a few day, especially during the wet season.
 The wrong lanyard material
There is another reason why some lanyards are of poor quality. If the lanyard material and the printing paste don't match, the logo can peel off faster than you think. Therefore, when looking for lanyards, make sure your supplier uses the right lanyard material.
A high-quality lanyard should look like this: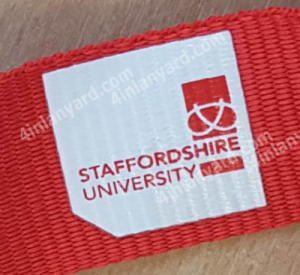 Problem 2. A lanyard is squished
Many customers complain about having the quality issues with lanyards that are printed on both sides. Most of the times, they claim the lanyards are squished and look like they've been worn for years, though they bought it yesterday, for example.
The thing is, there is a huge difference between the qualities for each side of the lanyard. And it's all about the temperature of ironing material. We give higher temperature while pressing materials to make sure the fluff don't pull out when we print logo on both sides. If your lanyard is a bit squished, contact your supplier as soon as possible. Have a look at the picture and compare these two lanyards to see the difference. Remember, quality is above all.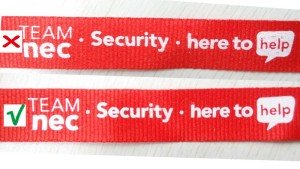 Problem 3. Poor quality of full-color lanyards
The full-color lanyards are excellent for multi-color designs, but the quality of them is sometimes disappointing. Let us explain. First of all, look at the pictures given below. What's wrong with each picture?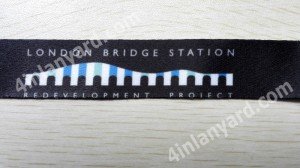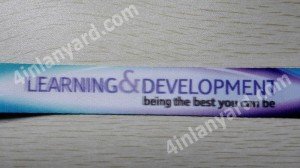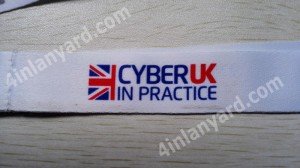 When it comes to dye sublimated (full-color lanyards) printed lanyards, there are a few issues that you might have to deal with, such as logo is not center enough for both side printing, ghosting and silk staining. If the lanyard material is in a light color like white or light green, the silk stains easily.
The 4inlanyard factory often conducts seminars and meetings related to the quality of our lanyards. We strive to make the lanyards of the highest quality and for a reasonable price. Our Quality Control Department controls the quality level of our lanyards and never allows to deliver low-quality lanyards to our clients.
Problem 4. Poor stitching
Some of our standard lanyard accessories include a metal alloy hook, a metal swivel hook, a metal crocodile clip, and a breakaway. We demand a professionally neat, straight and coincident sewing from our employers.
Three pattern repeats and an absolutely fitting needle line guarantee a high quality stitching. As a result, this method makes a lanyard much stronger and it looks a lot better. We have a very strict quality control of sewing. Every time we find a defective lanyard, we pick it out and ask our employers to improve its quality. They cut out the broken needle lines, and then stitch again.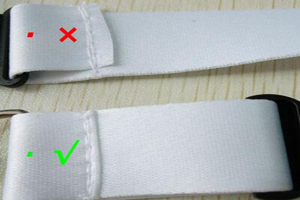 Problem 5. The lanyard's color doesn't match Pantone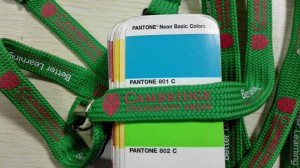 The lanyard's color should definitely match the color of Pantone. But sometimes people fail to notice this problem. The colorant is very important, though. We use only high quality colorant to make sure the color fastness, and provide high degree of accuracy.
It's time to enjoy high quality lanyards
Are you tired of all these mistakes your supplier keep committing despite your complaints? Do they keep telling you that these issues are hard to avoid? It's time to experience a top-notch service and enjoy your high-quality lanyards. Sound appealing?
Share all your requirements, wishes and needs with us. Send us an email to [email protected] or use the 'Leave the Message' option on our website to connect with our highly experienced experts and order your dream lanyards.
The 4inlanyard company has been producing custom lanyards for 10 years now. We guarantee quality and provide an unforgettable experience. We often share some useful information on our social media pages and our well-trained staff is available online 12 hours so if you have any question, feel free to contact us.
Our professional artist will help you create the best custom lanyard logo, and complete the work within 1-2 hours until you're satisfied. We strive to improve our customer service and the quality of our products, without raising the prices. When it comes to prices, we offer relatively low rates, so if you find cheaper lanyards, let us know and we will review the price.