Trade Show lanyards to make your brand notice
Trade Show lanyards to make your brand notice
Does your business have a tradeshow on the horizon? Make sure you have custom printed lanyards ready to distribute. They can increase your visibility on the tradeshow floor, boost your sales leads, and ultimately, create a nice surge in profits.Think about the last tradeshow you attended. Everybody had personalized lanyards—and for good reason. They're useful during the show to hold badges and name tags, and they're handy after the event for holding anything from keys to USBs.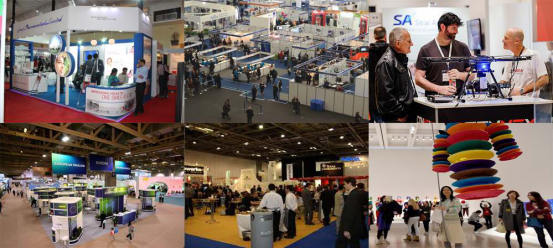 There are so many kinds of tradeshow in the world, different tradeshow means different kinds of industry, so the tradeshow can be defined the types below:
An exhibition, in the most general sense, is an organized presentation and display of a selection of items. In practice, exhibitions usually occur within museums, galleries and exhibition halls, and World's fairs. Exhibitions can include many things such as art in both major museums and smaller galleries, interpretive exhibitions, natural history museums and history museums, and also varieties such as more commercially focused exhibitions and trade fair.
Common type of exhibition:
lArt exhibitions
Art exhibitions include an array of artifacts from countless forms of human making: paintings, drawings, crafts, sculpture, video installations, sound installations, performances, interactive art, etc.
lInterpretive exhibitions
Interpretive exhibitions are exhibitions that require more context to explain the items being displayed.
lCommercial exhibitions
Commercial exhibitions, generally called trade fairs, trade shows or expos.
Here's why you need promotional imprinted lanyards for your next tradeshow: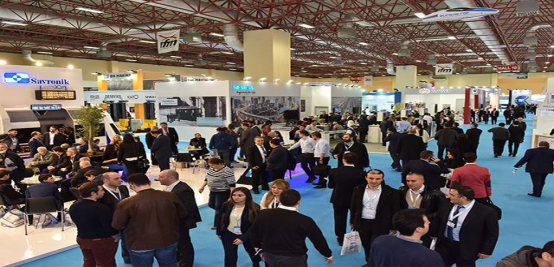 Attendees are busy.
There's a lot to cram in at tradeshows, and sometimes, attendees get so consumed with other activities that they forget to stop by your booth. Remind them with logo imprinted lanyards. It's an in-your-face way to keep your company name in sight, ensuring you don't get forgotten.
People want something useful.
Custom printed lanyards provide an immediate benefit to recipients. They don't get stuffed in a bag for later—they get used on the spot. It's hard to pass up on something that can be used right away.
Countless people see your message.
People go to tradeshows to see cool stuff and, most importantly, to talk business. When attendees are wearing your company's imprinted lanyards, your logo gets seen during every conversation.
When it comes to making a big impact at tradeshows, it's hard to beat promotional imprinted lanyards. They're a practical, highly visible way to promote your company and your booth. Read on for ideas on how to use custom printed lanyards.
Why custom tradeshow lanyards so important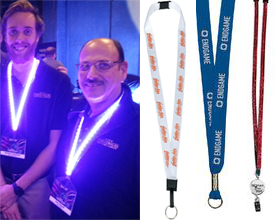 First of all, custom lanyards have your brand or company logo on your lanyards, wen you hold the custom lanyards to anywhere,people can recognize your brand easily. Image that, when you go anywhere, people will notice your brand, In the tradeshow, so many people, If someone remind your branding, it's successful to promote your branding.
Secondly, there are so may people in the tradeshow, everyone have their identity, some of is the supplier or manufacturers , some of the purchaser or buyer, some of the work people in the tradeshow, if not identity to clarify their, that must be so confused and chaos in the tradeshow. Using the custom lanyards with badge holders, different kinds of people have their identification card in the badge holders and people in the tradeshow can recognize these people easily and make the tradeshow is in order.
Thirdly, as custom lanyards have so many functions in the tradeshow, wristbands is also a good choice in the tradeshow. As people wrist hold an wristbands, it's convenient and others can be recognize easily and wristbands can catch one's eyes as the logo design is so attraction.Wristbands also have identification functions, different kinds of people use different wristbands, all of tradeshow person are in their position to make a successful tradeshow.
Finally no matter how big or small your booth is, inconsistent branding of your booth area and your staffers can break immersion. That means staying on brand from top to bottom with branded signs, banners, promotional items and gear – even the smallest details like custom lanyards with your logo on them count.
4inlanyard only focus on custom lanyards used in different occasions for 10 years, We only want to be professional and better. Our own factory is our strong behind force for guaranteed the quality of price and lowest price promise for every customers. Free quote and artwork, Free sample, always online customer service is our belief. If you only have lanyard issues want to get solutions, we also like to answer your questions and give solutions based on our experience. What are you waiting for?