The true evidence from most people, you can't missed
Today, we won't talk about the quality, products, or others, we only want to focus on the customer experience. As we post so many articles, like: lanyard design, five ways about custom lanyards, lanyard quality, promotional gifts, but one thing can't be missed is to hear that our customers complaints, whether they search for solutions for solve lanyard issues, or they complaints about the products. We think best customer service is hear that the customers needs and we think we have a duty to post this kinds of problems that so many people may be meet.
As our articles attract more and more people to read and discuss, recently ,we received an email for our readers, he told us that his lanyard supplier can't solve this lanyard issues well, they want to know the solutions and they will place a trail order from us if we can solve the problems well.
The picture below is fro the reader, take a look at this pictures , do you find anything?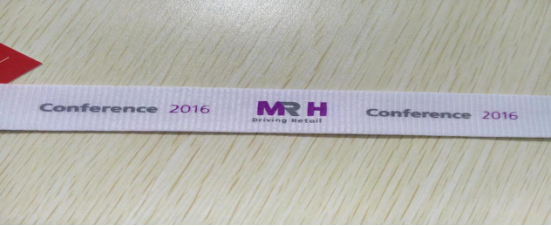 Is it looks well? If you don't know the requirements of clients, you might be think this is good printing, but he told us, he want the letters MR is apart, and between the two letters have an gap. This might be a problems that easy to ignore,and there will be use another way to make the letters clear. Now, let's look at what we do a sample for this readers.

We make the sample, and notice the gap in the two letters. At the same, we notice the two letters is small, so, we use the ink when we printing to make the small letters more clear.
From this readers reflect, we should focus on the small details and make the small thing perfect and suited the clients needs. If we ignore the details and not focus on the customer experience, we can't know the thoughts in the clients heart, so we can't do a perfect products.
We are not perfect that we also make some mistakes as other lanyard supplier.
A few days ago we had such an order as below:
One of our company customer need urgent order for 500pcs heat transfer lanyard and allow us 3 days production time.

In fact, our production time are busy in this month. In order to maintain our new and old customers trust our service that we promise her to finished this order. We arrange producing department to produce this customer order firstly,and we finished the semi-finished products in the day. Unfortunately the color is different from artwork image as below image.

It is not good look as we look forward to.Because the "Tree image imprint color looks bad, it is very far from the artwork. When I found this problem the time has gone one day. This customer want to receive lanyard on September 27th, but now is 23th, and the Fedex express to customer's address need 3 days. So we only 1day to finish this order well.
We can't break our promise for our customer's request. So now I decide to solve that. I contact our produce department,and told them produce this order first. The revised lanyard as blow image.

We find our problem and solve our problem in one day and gain our customer good evaluation.
We also received our customers asked us for whether use safety breakaways and buckle release or not. Please see the image below.
As for this question, we want to clarify that, If the lanyards you order is used for schools, park for children and outdoor activities have kids,we strong suggest use the breakaway and buckle release. When the kids neck with custom lanyards, but meet the danger situations like the lanyards hold the neck tightly suddenly, Once the lanyards have buckle release and safety breakaway, the buckle release will make lanyards apart automatically. Safety breakaway is also have a function to guaranteed the security. So, if you want your custom lanyards give more secure, please add the buckle release and safety breakaway for your lanyards.
Above information some from our readers, some from our customers. We give the different kinds of solutions for everyone. Maybe, there are still some lanyards issues we don't post or we still let customers know more solutions for solve problems. But we always struggle for help more person whatever in lanyard issues or knowledge about the promotional products, We may not
professional in premium gifts, but we can guaranteed we are the most professional custom lanyard factory. If you meet some problems or want to complaint, we are willing to give our solutions based on our 10 years experience. 4inlanyard factory are waiting for you, what are you waiting for?