Protecting our Earth from choose Eco friendly lanyard
Protecting our Earth from choose Eco friendly lanyard
Since the United Kingdom industrial revolution in the 19th century , non-renewable energy has been abused, oil energy reserves in the world have not enough human using in 100 years If humans use the non-renewable energy without temperance.
Because of lack of energy resources, people are refer to use eco-friendly energy or eco-friendly products in daily life.
Our Earth's ecological environment
Since humans began to understand how to use oil resource that they have invented many chemicals products and made a lot of rubbish,such as Plastic bags, wast gas, and undecomposable leather. Not only that, Human beings for their own profit that cutting down trees, digging coal Wantonly, It result our Earth ecological environment be destroyed, and let the Earth's ecological lose their balance, many species are vanishing, and many animals losing their territory.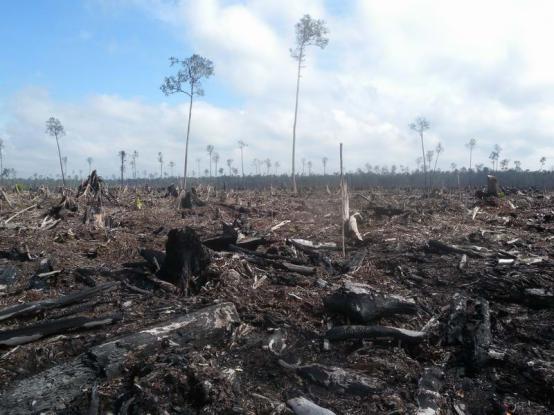 The importance of protecting Earth environment
As we know that the development of science and technology is a double-edged sword, it can let us enjoy the superior quality of life, in the other side it will be bring us great disaster.
No matter what you believe about the environment, it is so important to take care of the thing that protects us and provides us with so many resources. The more of the Earth's resources we use up, there will be less resources for future generations. There are many new, environmentally friendly companies emerging that provide all green products to decrease our carbon footprint. Many other companies are following this movement and are incorporating green products to create less hazardous waste and to accommodate the more Earth-friendly consumers.
It is our human beings duty for protecting the Earth is urgently actions that stopping the Earth ecological environment worsening.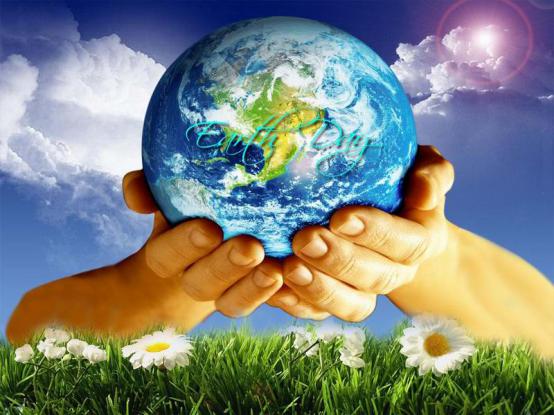 We can do something for our Earth as below actions
1.Start from small things around you.
We should not use one-off chopsticks,and stop reducing use of cars in a short distance, and old stuff recycling.
2.Saving the planet has never been more important, but luckily, it's becoming easier and easier to be green in all aspects of business, including making ID cards for use with lanyards. With the products mentioned in this article, it's easy to be good to the environment while still having the lanyards and ID cards your organization needs. So buy some earth-friendly lanyards and ID card materials for your business and go green today!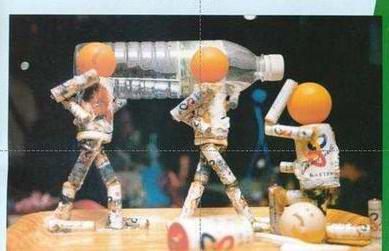 What's the buzz in the world today? Undoubtedly, more and more use of recycled and organic products! Through the extensive use of plastics and petroleum products, on the brink of a time when our decisions today will affect our future and the future generations. Given plution levels are rising and the threat of depletion of the ozone layer, we must be aware of what we use and how it affects everyone around us. When the use of recycled products is gaining prominence, for help in the reuse of products and helping to reduce the burden on existing resources that can be used in better ways.
What the recycled materials
Recycled PET laces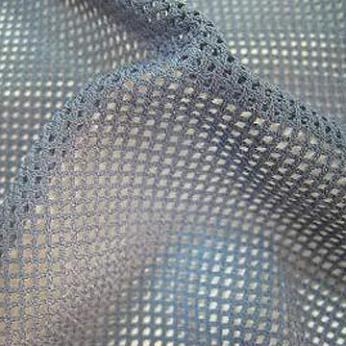 Many companies offer flat cord made of recycled PET recycling. PET polyethylene terephthalate (sometimes written poly (ethylene terephthalate) and the polymer used to manufacture soft drink bottles. It is a thermoplastic polymer resin of the polyester family and is used to make synthetic fibers. Recycled PET by the fusion of the new extrusion and then as a new fiber helps to save raw materials and lower energy requirements.
The increased popularity of recycling of PET results from the fact that the product is more resistant to fire than other materials, is inexpensive and easy to clean. It is durable and its use helps to minimize damage to the environment through conservation of non-renewable resources. Billions of plastic containers end up in landfills. Selection of recycled PET products help create a more sustainable path for plastic.
Recycled PET laces offer a flat print area. This allows a more complex or simply the most prominent brand. Cords can be personalized and screen printed according to specific requirements.
2.Recycled PET Sublimation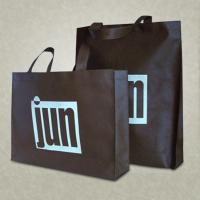 The final word in the logo in full color reproduction – which is what the dye sublimation provides high definition. The use of ultra soft fabric recycled PET reproduced logos and images can be photographic quality. Cords can be customized according to your preferences using CMYK Sublimation.
Why Eco Lanyards?
ECO-FRIENDLY MATERIALS
Eco-friendly customizable lanyards is constructed with environmentally conscious materials. With custom designed eco lanyards, your business will gain exposure while establishing eco-friendly value. Eco-optimize your marketing with recycled lanyards from sustainable materials like Recycled PET,organic cotton, bamboo and corn.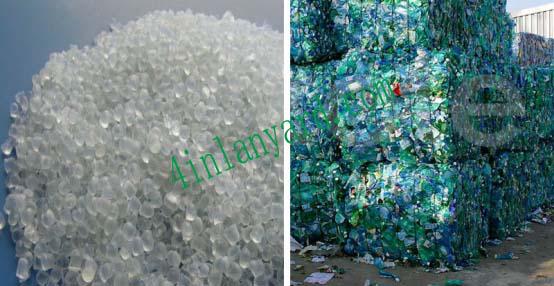 Recycled PET – Our most popular and affordable custom lanyards are composed of recycled water bottles and other containers. We upcycle these disposed plastics to a soft, sustainable material of rPET to manufacture our Recycled Lanyards. Each of these promotional lanyards are available in an array of color and style options. Work with an in-house expert to build a custom tailored design that meets the marketing needs and matches the aesthetics of your "green" brand.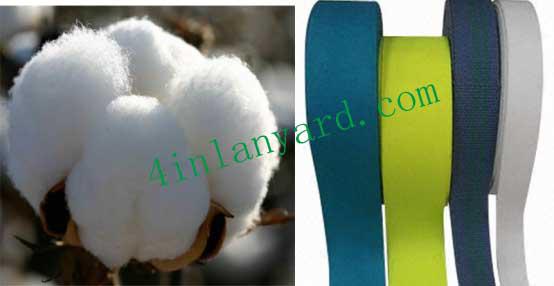 Organic Cotton – The Organic Cotton Lanyard collection provides a wealth of eco-friendly customization options for brands to showcase their investment in sustainability. With each pound of organic cotton produced, we eliminate 1/3 pound of potentially dangerous chemicals that are used in the manufacturing of synthetic cottons. Our custom imprints are all rendered with water-based pigments to guarantee and entirely earth-friendly product with no chemicals. Eco and budget-friendly, these custom printed lanyards are an exceptional choice for the planet and your brand.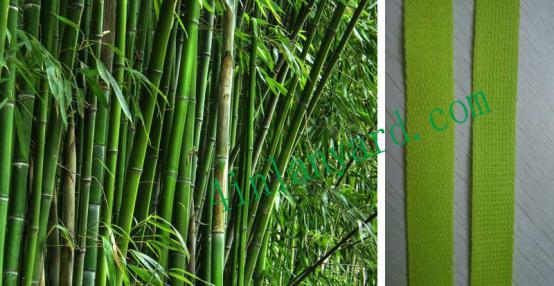 Bamboo – Our Bamboo Lanyards are made from 100% natural bamboo. Bamboo is recorded as the largest and fastest growing grass in the world, producing 3 feet of growth in 24 hours without the need for fertilizer or chemical intervention. The resulting natural material boasts a tensile strength stronger than steel, guaranteed to be safe for the environment and your customers. A perfect "green" alternative to nylon with complete customization to embody the look and feel of your eco-friendly brand.
Corn – 4inlanyard factory are produced with 100% natural, biodegradable corn. All are customizable and come in a variety of color and style options, with custom imprinting to meet your specific marketing goals. The ink on the lanyards is contained within, ensuring logos won't chip off during use. With custom printed corn lanyards, you are making a positive choice that will benefit the planet, your customers and your business for years to come.
ECO-FRIENDLY PRINT
Why not try using non-toxic vegetable-based dyes? These lanyards contain substantially lower levels of volatile organic compounds (VOC's). Additionally, the process by which they are created has significantly lower emissions of hazardous air pollutants (HAPs), making them extremely Earth-Friendly,Using these materials and methods demonstrates the technological advances we are making in protecting the environment and providing for the future. Additionally, we can apply your imprint using inks that are free of polyvinyl chloride. Choose these PVC-free inks for a truly eco-friendly product.
Why 4inlanyard eco- friendly lanyards
At 4inlanyard, we understand how important it is to be good to our environment. For that reason, we have partnered with carbonfund.org in an effort to commit to a "green initiative." However, our efforts do not stop there.
Our earth-friendly lanyards are perfect promotional tools that are both appreciated and recognized by environmentally conscious customers. Our line is made up of organic cotton, bamboo and recycled PET, our most popular earth-friendly material.
Eco friendly lanyard smoke of burning is white gas and without irritant smell, less residue. But the ordinary lanyard smoke of burning is black gas and with irritant smell, black residue.
It is our fire test for Eco friendly and ordinary lanyard compare as blow as: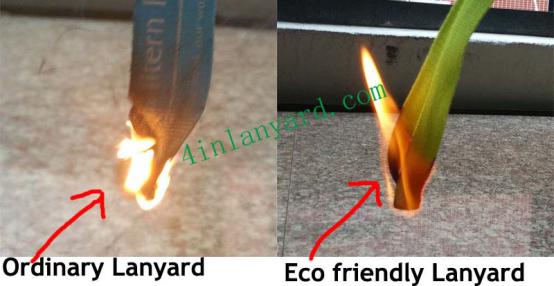 We endeavour to offer an environmentally friendly lanyard option for our clients. As more sustainable options are becoming available on the market, they are becoming increasingly popular among our customers. For those concerned about their product's carbon footprint, we offer factory made lanyards which can guarantee the high quality and lowest price.
PET stands for Polyethylene Terephthalate, a material in the polyester family most commonly associated with the ordinary plastic water bottle. You may recognize it by the popular recycling symbol with a "1" inside of it that appears on the bottom of PET products.
Our recycled PET lanyards are made with 100% recycled materials. They are just as durable as our other products, and they come in a wide range of colors. We can even print your logo and colors using inks that are free of polyvinyl chloride to make a truly eco-friendly product. Used as promotional products, these lanyards are perfect for a green trade show, an eco-friendly organization, a non-profit event and more.