You never thought of badge reel can use that
Badge reel are not by definition a lanyard, but are fast becoming the employee id badge holder of choice for many small and large companies. It must you gain kind of honor or job,when you have a badge.Badges have relevant to our daily work,and you with a badge is representative of the company image.There is no attachment in badge can directly hung on clothes,so you must need a badge reels which can help you wear the badge.lanyard is a important helper to badge reels  which can make badge free,and people will pay more attention on badge.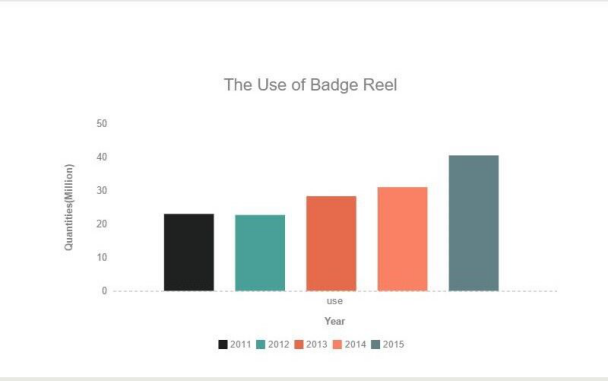 But your badge needs to be more special adornment that can make work not drab.Company logo printed on the lanyard could improve the company's image and brand promotion. Impressive & full color company logo can make people impressed.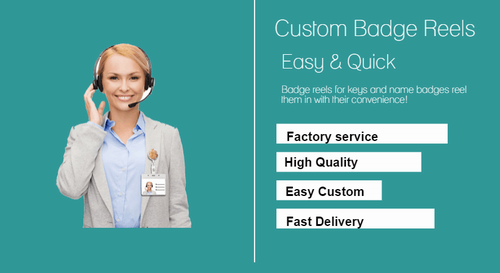 What is Retractable ID badge reels ?
Badge reels are retractable after the string pulled out from reels. Retractable reels come with a variety of attachments, such as badge straps, badge clips, key The stylish carabiner retractable badge holders come with badge straps can snap-on your name badge holders, ID cards, name tags easily! Great Looks, Multiple Colors Retracting ID Card/Badge Reel, 30" Retractable Nylon Cord.Custom Badge Reels, Retractable ID Holders, Name Badges, ID Cards and Name Tags.These unique retractable ID badge reelsare personalized as your request or we can tailored for you, choice of eight colorful reel options, with ID badge reels we are also many choices for you(round or square with different colors).Everything is prepared for your advertising and promotion,but it seems we forgot something important? You are right,We also offer many types of custom lanyards with unbeatable price.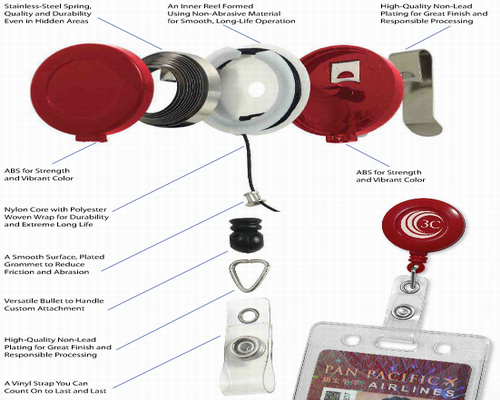 2. What the utility of badge reel?
Most badge reels in use today are being used by schools, businesses, and government agencies for holding and displaying identification cards. Other object attachment hardware options include metal split rings and snap hooks for attaching keys, cell phones, and pens, as well as small tools. Having the badge reel within arm's reach is central to its usefulness. Most badge reels are manufactured with a metal pressure clip on the back for sliding onto the top of a belt. Others have a close-ended pin or alligator clip for attaching to other articles of clothing, such as a jacket or pants pocket.

The utility of the badge reel comes from the ability to extend the cord from the reel case by about 30″, making them ideal for security card swiping systems and keyless entry systems. When released, the cord retracts back inside the badge reel case, hence the name "retractable badge reel.
3. Who increase your ID cards security and promote your brand?
We can printing your logo onto ID cards holder and Retractable id badge reels which can help you to prompt your brand. Also when we discussing ID cards, there are a variety of options for keeping these items safe. ID badge reelsare essential, but businesses and organizations should carefully consider which ones they are going to use to reduce the chance that these cards will be lost.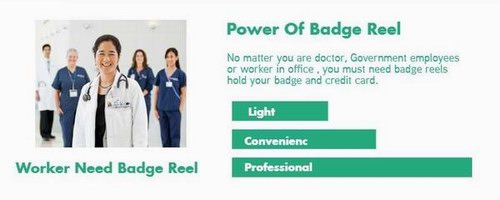 One of the ways to keep ID cards safe is to use badge reels. These reels are retractable devices that can help keep badges secure. We have a variety of these items for anyone who wants to see what a difference they can make in both convenience and security. A round one which can connect with custom lanyard directly.Another item is the carabiner badge reels which more stable and have a metal clip at the back of reel,etc…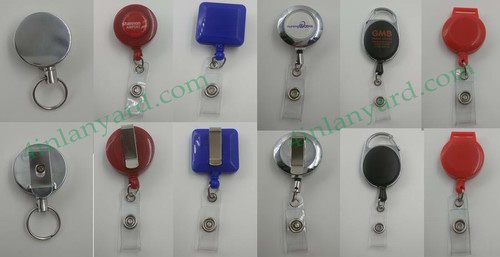 For some companies it is a daily event.  An employee is at the security desk needing another special lanyards because it suddenly stopped working.  Some employees only had their old standard lanyards that's are not practicable and not convenience for office people daily work. How does make a office work easier and efficient by using a badge reels in lanyard?
For the work ,on the one hand, when the custom lanyard are too long and hamper your office daily, you can use the badge reels to adjust the length of the lanyards and it's easy to shorten to right length. Also, it can Keep your flash drive with you.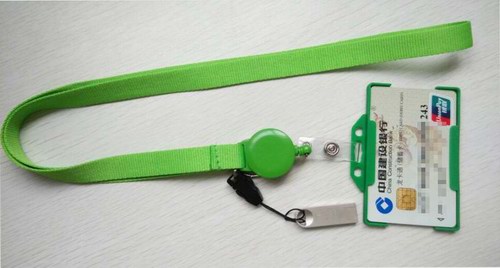 On the other hand, do you often meet the embarrassed moment when your cellphone is ring you are doing other things and not a free hand to get the phone? Use a badge reels can keep your cellphone with you and another functions is badge reels have High-visibility on your id-badge,make your id-badge more flexible for your use.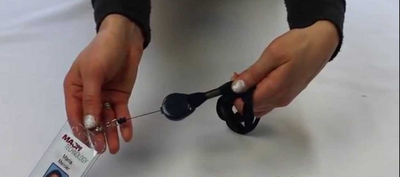 For your daily life,Key is always the forgotten things when throw it anywhere and it's difficult to find that small things.But when your lanyard with badge reel,you can hang your key in the lanyard.It's can be easy to use your key and benefit your life.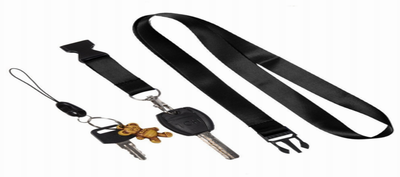 what kinds of badge reels are available?
Most providers of retractable reels offer five different series. Within each of these series, there are normally multiple color options available.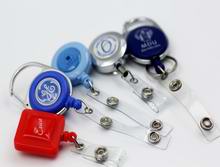 The first series of badge reels is plastic. This is the most popular series, and works well in many different situations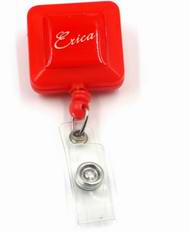 The second series is heavy duty. This series is designed to withstand the weight of heavier items.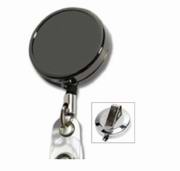 The third series is carabiner pull reel. This series is used to carry the lanyard and promote your branding.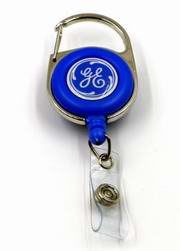 The fourth series of reels are the silver or gold metal reels. These retractable reels feature a lanyard hook, which make them the perfect option for carrying keys or other similar items.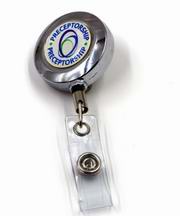 The last series of badge reels are the Premier series. As the name implies, these reels are a cut above the rest. Premier retractable reels are made from chrome and plastic. They feature an extra long cord, and have a special clip on top that makes them very easy to use.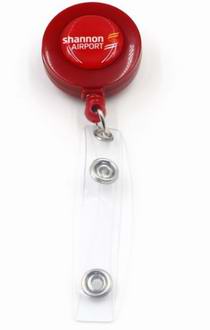 As with many other products found online . . . let the buyer beware. Badge reel quality, selection and price can vary widely from site to site. Your best bet for getting the lowest price is to find a company that imports the product directly from overseas (all badge reels today are made in China). Also check minimum quantities. Event though the price might be right, the minimum purchase quantity from a direct importer may be too high. In this case, pay a little more and find a site which offers the quantity you are seeking. For quality, you should always request a sample so you can judge for yourself.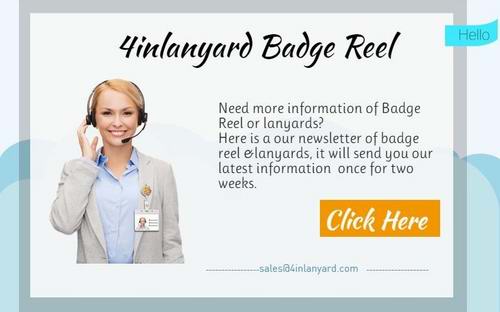 Old standard lanyard always knot up in your bag and you could not find things in your bag easily. If you use a badge reels ,it's easy to reel in and to put into your pocket or bag.After all, badge reel is fast available for use and make you either in work or life more easier and convenience.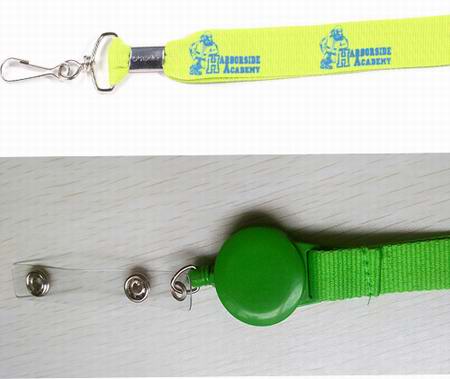 Here is a lanyard factory which have impressive rich content of lanyard and the lowest price online of the lanyard .4inlanyard is a lanyard factory in china. We not only provide quality custom lanyards, we also offer the badge reels and badge holders for your custom lanyards utility.more information, please contact:[email protected] or website:4inlanyard.com Please contact us if you have any insisted on it and we will give advise to you.